Connecting all things mortgage with best-of-breed technology
Backed by the global resources of Intercontinental Exchange (NYSE:ICE), we're transforming, streamlining, and digitizing the U.S. residential mortgage process, from consumer engagement through loan registration in order to connect our customers to opportunity.
We serve lenders, partners, service providers, title agents, mortgage investors, and homeowners
Our solutions are developed to help customers navigate changing regulations, complex workflows, and thinning margins in order to close loans quickly, maximize profit, and stand out in today's competitive marketplace. The ICE Mortgage Technology® Platform and our robust ecosystem provide the innovative technology, network, and across-the-board support to make it possible to deliver the American Dream of homeownership.
What sets us apart?
When it comes to mortgage technology, we guide with unmatched expertise. We lead in machine learning and automation. We simplify complicated workflows and compliance. Without our connected network, these unparalleled opportunities would not be possible. Between technology and real-time data. Between innovation and scale. Between all parts of the ecosystem.
See ICE Mortgage Technology suite of products
Customer success stories
Thousands of customers use ICE Mortgage Technology to drive business and improve efficiency through cutting-edge digitization. Learn how they leverage innovative technology to provide a high-touch, world-class customer experience.
See our customer stories
"The responsible thing to do is take the good fortune that you had and reinvest for that next cycle to make sure that you're positioned to compete, and data is a huge piece of that."
"We've focused on automating decisions with data that's resulted in tremendous opportunity for our customers, lower churn times, better customer satisfaction scores and lower cost to originate."
"We are focused on our customer experience and digitizing mortgage lending for our customers. With more than 70% of our loans being eClosed with ICE Mortgage technology, we know that this is just the beginning of our efficiency and digitization."
"We have business leaders coming up to us saying, 'Can you automate this for me? Can you make my work life experience better by creating technology?' Which is great."

Awards and recognition
We're paving the way by focusing on one key thing: automating the mortgage process. The industry and others have taken notice.
HousingWire Tech Trendsetter
Stew Scott , VP of Product Management for AIQ, ICE Mortgage Technology

HousingWire Rising Star
Tiffany Bjarnson , Senior Product Manager

HousingWire Insiders
Lisa Fiondella , VP of Product Management for Data & Analytics, ICE Mortgage Technology

HousingWire Women of Influence
Payal Parikh , SVP, Engineering, ICE Mortgage Technology
Courtenay Dunn , Director of Government Affairs, ICE

HousingWire Vanguard
Robert Baca , Chief Technology Officer, ICE Mortgage Technology

HousingWire Tech100
ICE Mortgage Technology

2021 HousingWire Rising Star
Louis daRosa , Vice President of Engineering

2021 HousingWire Marketing Leader
Jonas Moe , Senior Vice President, Marketing

2021 HousingWire Insiders
Marci Davis , Senior Director of Product Management
Rebecca Frisbie , Director of Product Management

2021 Vanguard Award
Joe Tyrrell , President

2020 HousingWire Tech100 Mortgage
HousingWire 2020 Rising Stars
Linh Lam , Senior Vice President and Chief Information Officer

2020 NEXT Powerhouse Awards
Piper Beveridge , Vice President, Government and Industry Relations

HousingWire 2020 Women of Influence
Erica Bigley , Vice President, Corporate Communications and Branding
Terri Davis , Vice President, Client Management

EY Entrepreneur of the Year finalist, 2020
Jonathan Corr , President and CEO

HousingWire's 2020 Insiders List
Robert Baca , Senior Vice President of Technical Operations

2020 Finovate finalist
"Best Digital Mortgage Platform" category

CIO 100 Award, 2020
Selim Aissi , Senior Vice President and CSIO

HousingWire 2019 Rising Stars
Boris Kogan , Vice President of Legal

Executive Roundtable for Mortgage Finance
Distinguished Career Award: Sig Anderman

2019 FinTech Breakthrough Awards
Best Digital Mortgage Company

2019 MBA Opens Doors Foundation Community Champion Award
Jonathan Corr , President and CEO of Ellie Mae

2018 Ragan Intranet Awards
Sales Lead Management Association "20 Women Leaders in Business"
Cathleen Schreiner Gates , EVP, Sales & Marketing

HousingWire 2018 Rising Stars
Brian Brown , EVP
Vikas Rao , VP, Product Management

SF Business Times Bay Area Best Places to Work
HousingWire 2018 Women of Influence list
Stephanie Durflinger , VP, Product Management
Patty Canady , VP, Major & Corporate Accounts

Glassdoor Top CEO
Jonathan Corr , President & CEO

CSO50 Award From IDG'S CSO
Housingwire's Insiders List
Adam Krause , VP, Technical Support

Mortgage Professional America Hot 100
Jonathan Corr , President and CEO
Joe Tyrrell , EVP

HousingWire 2018 Vanguard Award
Jeff Benjamin , SVP, Sales & Client Management

HDI Pinnacle of Excellence Award for Technical Support Team Lead Certification
San Francisco Business Times Top 50 East Bay Tech Employers
HousingWire 2017 Rising Stars
Bob Hart , VP, Partner Development
Troy Tomas , VP, Solution Services & Sales Engineering

Mortgage Professional America Elite Women
Cathleen Schreiner Gates , EVP, Sales & Marketing

HousingWire 2017 Women of Influence
Piper Beveridge , VP, Government & Strategic Relations

Fortune's 100 Fastest-Growing Companies
Glassdoor Employees' Choice Award
EY Entrepreneur Of The Year Northern California Region (finalist), 2016
HousingWire 2016 Rising Star
Parvesh Sahi , VP, Business Development

HousingWire 2016 Women of Influence.
Susan Chenoweth , SVP
Kathleen Shea Haley , VP, Professional Services
Georgeann Beville , VP, Technical Support

City of Pleasanton (California) Economic Driver Award
HousingWire 2016 Vanguard Award
Cathleen Schreiner Gates , EVP, Sales & Marketing

Security Magazine Security 500 (#8 Banking/Finance)
HousingWire Secondary Market All-Stars
San Francisco/Silicon Valley Business Journal Best Places to Work in Bay Area
San Francisco Business Times Bay Area Top Tech & Innovation Company
HousingWire 2015 Vanguard Award
Jonathan Corr , President & CEO

HousingWire 2015 Women of Influence
Cathleen Schreiner Gates , EVP, Sales & Marketing

HousingWire HW TECH100; Winner, Market Influence, 2014-19
HousingWire Compliance All-Stars
Ellie Mae HousingWire HW Fast50, 2014-15
HousingWire 2014 Woman of Influence
Angela Cheek , VP & Counsel, Product Compliance

HousingWire Rising Star and National Mortgage Professional 40 Under 40 list, 2014
Jonas Moe , VP, Product Strategy

EY Entrepreneur of the Year finalist, 2014
Sig Anderman , Founder & CEO

Mortgage Executive Magazine Top 50 Mortgage Service Provider
Forbes' Best Small Companies
Deloitte Fast 500, 2013-18
Mortgage Technology Lenders' Choice Award
Giving back
Through ICE Gives Back, we serve our community in a big way. Learn more about these efforts and how you can join us to make an even bigger impact.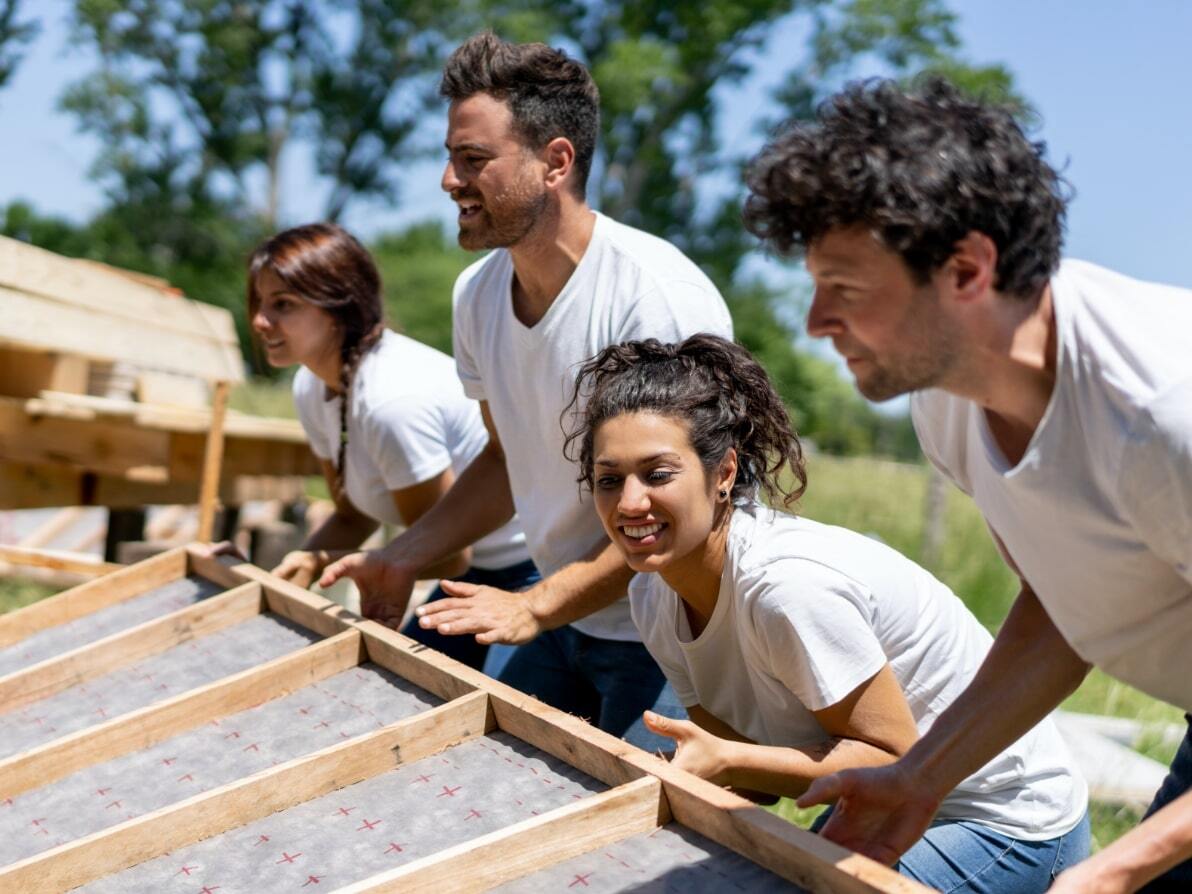 Join the ICE Mortgage Technology Team
Make a difference from day one
Our innovations and success don't come from just one person. They come from a community that's connected to each other, and working to power a bigger picture and a brighter purpose.
We're visionaries. We're innovators. We're hiring. Come join the team that's delivering the technology that is powering the American Dream of home-ownership for thousands of people every day.
Find out more