Empower your sales teams to keep pace with today's informed and on-demand customer
Opportunity Management
Connect more. Convert more. Supercharge your team's ability to respond in the moment with the right team member and the necessary context to keep your prospects engaged. Velocify Pulse ingests, prioritizes, and distributes leads and opportunities, while organizing, automating, and updating your team's response processes.
Team Management
Enable every sales rep to be the best sales rep. Empower leadership to identify and scale what works and eliminate what doesn't with the measurement and incentives to keep teams on board and always improving. Velocify Pulse optimizes and enforces your ideal workflows, tracks and measures activity, and rewards performance.
Business Management
Master measurement and forecast with confidence. Visualize your pipeline with greater clarity, accuracy, and ease to strengthen return on investment and pinpoint sales planning. Velocify Pulse delivers insights in real-time to identify opportunity and isolate bottlenecks from lead source to conversion across your sales org.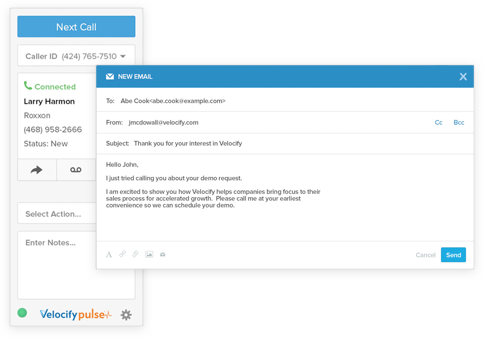 Sales communication
Multichannel communication all in one place. Stay focused and engage prospects whether on the phone or in email with the leading sales automation software. Your team can initiate calls, compose personalized emails, select templates, and group recipients right from their prioritized prospect list.
Workflow builder
Visual drag and drop management. Design and scale winning sales automation workflows right within Salesforce to ensure the optimal action is taken for every contact, lead, and opportunity. No Apex coding is required so you can respond to changing sales objectives on the fly.'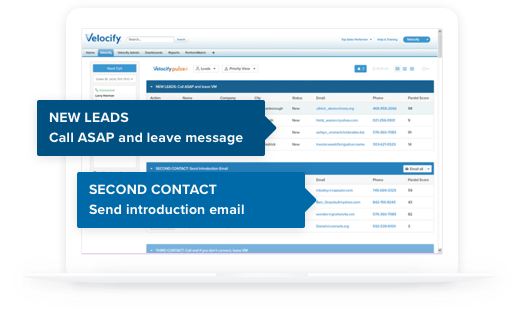 Prioritized sales activities
Prescriptive easy-to-understand engagement. Improve conversion and eliminate guesswork with a dynamic, prioritized list of activities clearly laid out for each sales rep and matched to your ideal contact strategy. Ensure reps focus on the right sales activities and every prospect goes to the rep with the highest likelihood to close it.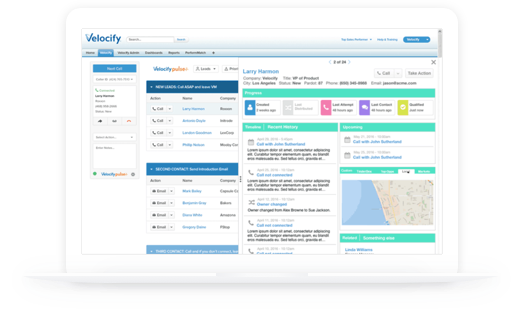 Buyer insights
In-the-moment contextual support. Arm sales reps with important information they need to close deals, such as call logs, lead scores, account notes, data mining tools, or other third party data. Populated automatically and displayed conveniently in reps' prioritized view, buyer insights can be customized to display any Visualforce page.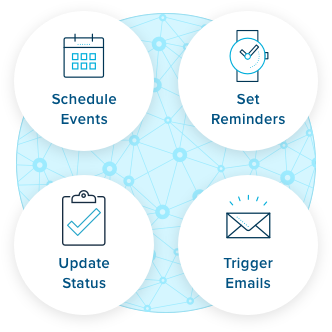 Accurate data automation
Data and task management you can trust. Streamline data entry and follow up tasks to enable reps to update statuses, schedule events, set reminders, and trigger emails with a click. Handled programmatically, your Salesforce data becomes worry-free, accurate, actionable, and capable of pinpoint reporting and forecasting.
Originate more loans—faster
See how Velocify Pulse + ICE Mortgage Technology Platform helps lenders originate more loans, lower costs, and reduce time to close.
Velocify Dial-IQ®
The most reliable and functionally-rich sales dialer built for the mortgage industry. It not only enables more calls to happen, it ensures your loan officers make calls that drive conversations to actionable next steps. More productive calls, faster closing rates, and real-time reporting insights make Dial-IQ a must have tool for your team.