Simplifile®
SIMPLIFILE PARTNER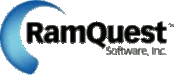 RamQuest Software
RamQuest Software, Inc., a Texas-based corporation founded in 1991, is the premier provider of software tools for the Land Title Industry. The company's software products are currently in use for title closings in all 50 states. RamQuest's state-of-the-art software provides a complete set of tools to facilitate and automate much of the work performed by title companies.
We love our Simplifile partners.
At Simplifile, we work tirelessly for the success of our customers, and we have teamed up with some of the best organizations in the industry to provide the most simple, streamlined online document solutions.
Become a Simplifile Partner