Simplifile®
SIMPLIFILE PARTNER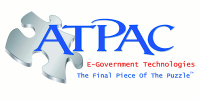 AtPac
For more than 24 years, AtPac has provided next generation software solutions and services to County and State government. Our product suite provides superior value to our clients by enhancing their workflow and productivity via advanced, automated solutions for clerk, recorder and register of deeds functions. We specialize in cashiering, imaging, indexing, storage and retrieval, eRecording and redaction of personal information. Our image conversion project team successfully manages the scanning and indexing of millions of records per year. AtPac takes great pride in our products and support. Our commitment to our customers is what separates AtPac from the rest of the industry.
We love our Simplifile partners.
At Simplifile, we work tirelessly for the success of our customers, and we have teamed up with some of the best organizations in the industry to provide the most simple, streamlined online document solutions.
Become a Simplifile Partner