Simplifile®
SIMPLIFILE PARTNER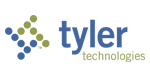 Tyler Technologies
Based in Dallas, Tyler Technologies is a leading provider of end-to-end information management solutions and services for local governments. Tyler partners with clients to make local government more accessible to the public, more responsive to needs of citizens, and more efficient. Tyler's client base includes more than 6,000 local government offices throughout all 50 states, Canada, Puerto Rico and the United Kingdom. Tyler has been named one of America's 200 Best Small Companies by Forbes Magazine and one of America's 100 Most Trustworthy Companies by Audit Integrity, an independent research firm.
We love our Simplifile partners.
At Simplifile, we work tirelessly for the success of our customers, and we have teamed up with some of the best organizations in the industry to provide the most simple, streamlined online document solutions.
Become a Simplifile Partner