Lenders and loan officers unite
Productivity
The lending process requires performing a multitude of sales and marketing activities, keeping realtors up to date, and engaging with potential borrowers. Help loan officers close more loans with tools built specifically to delight borrowers and simplify the referral, sales, and marketing processes.
Compliance
Enforcing compliance across various branches with multiple loan officers is challenging. The potential financial risk and liabilities are very real. Leverage a platform that makes compliance a breeze with automated and corporate-approved messaging that includes borrower opt-in functionality.
Visibility
Having data spread across disparate systems is problematic. Track all activities, from referral to close, and beyond, with a centralized report hub, giving you the ability to optimize your sales process and make data driven decisions.
Empower your LOs to bring in more business
See how Velocify LoanEngage + ICE Mortgage Technology Platform helps lenders originate more loans, lower costs, and reduce time to close.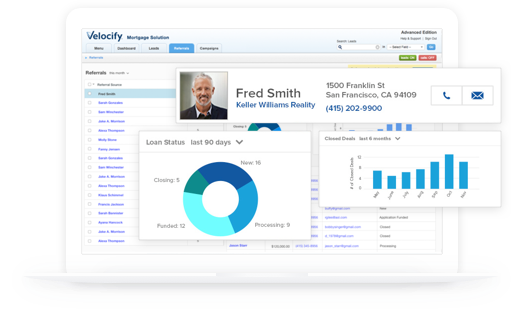 Referral management
Keep the referrals coming by enabling compliant co-marketing while keeping referral partners in the loop at every stage in the borrowing process. Give loan officers better visibility into which sources are performing so they can make better decisions.
Marketing automation
Ensure compliance and brand consistency with email templates and track campaign success with corporate-approved emails and texts. Empower loan officers to close and retain business with automated pre-app, in-app, and post-app communication.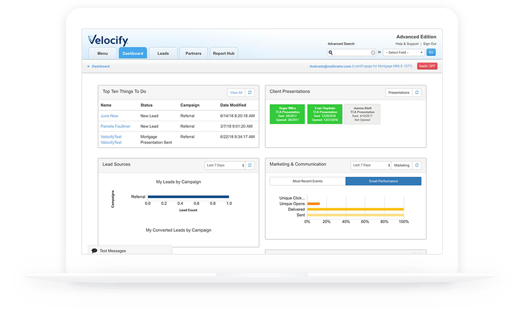 Sales lifecycle management
Give borrowers a modern mortgage experience with compelling visual loan scenarios. Ensure valuable opportunities don't slip through the cracks by giving loan officers visibility into their most important sales activities from prospect to close and beyond.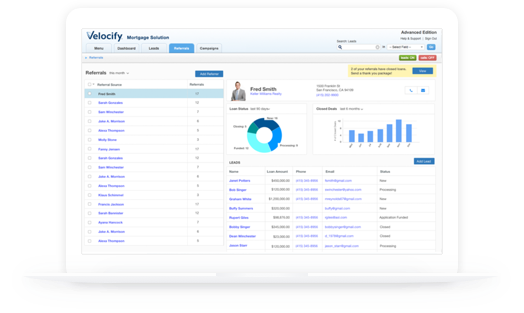 Reporting and analytics
Make data-driven decisions with the only solution that can aggregate loan officer, referral source, and campaign performance data across the entire sales process. Protect your company with compliance tracking at all stages of the sales and marketing process. Respond to opportunities from key market changes instantly with real-time market insight and clear metrics of how your content is being viewed.
Velocify Dial-IQ®
The most reliable and functionally-rich sales dialer built for the mortgage industry. It not only enables more calls to happen, it ensures your loan officers make calls that drive conversations to actionable next steps. More productive calls, faster closing rates, and real-time reporting insights make Dial-IQ a must have tool for your team.
Unified dashboard: Whether in the office or in the field, give loan officers visibility into top activities, lead source performance, borrowers' interaction with loan presentations, and interest rate trends so they can quickly make better decisions about where to focus their efforts.
Intelligent sales workflow: Let Velocify's proven technology simplify the sales and marketing process so loan officers spend less time planning and more time doing. Ensure timely follow-up with potential clients, current clients, and referral partners with easy-to-follow cues and notifications.
SAutomated communication: Free loan officers' time by automating tailored email and text communications when borrowers reach key milestones. Enforce consistency and compliance with corporate-approved messaging. Keep new leads warm and current clients engaged with drip and nurture emails.
Partner management portal: Give loan officers the tools to make the most of their partner relationships. Keep referrals coming by automatically keeping referral partners in the loop. Give loan officers visibility into partner performance for better decision making.
Simplified solutions: Using multiple products for each of your activities is complex and limits visibility into connected loan stages. Using LoanEngage ensures consistency and compliance while providing accurate reporting throughout the process.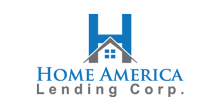 "With Velocify LoanEngage, the automated marketing materials and new visibility into the sales process will help us ensure compliance, close more loans, and operate with far greater efficiency."




Jeff Richard

Midwest Regional Marketing Manager, MCS Mortgage Bankers